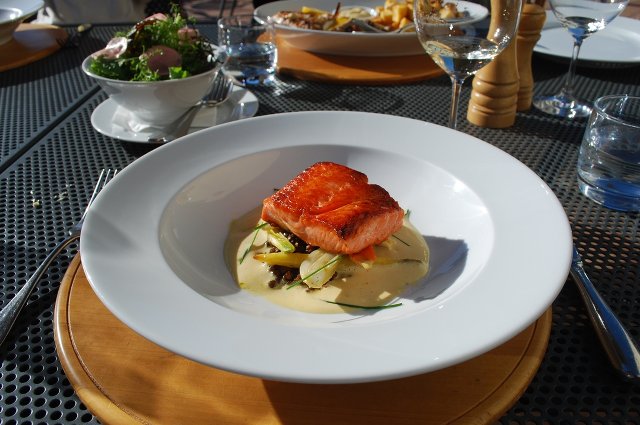 New Zealanders value seasonal, local, fresh, wild-caught or hunted. Oysters, Scallops, Mussels, as well as wild and sustainably farmed salmon, are just a few of the fabulous seafood choices. Don't forget the quintessential kiwi favourite: fish and chips – typically fresh snapper, terakihi, or hoki – best eaten from the paper wrappings while relaxing on the beach watching a sunset over the ocean.
Try our world famous lamb, delicious when roasted with rosemary and seasonal veges! Sustainably farmed, grass-fed beef ensures the most succulent and tender steaks you'll ever enjoy.
We'll also make sure you experience traditional Maori food, cooked on hot rocks buried in a pit oven, resulting in a uniquely delicious flavour that you won't experience anywhere else in the world.
Award winning artisan and gourmet cheeses are also widely available, both in supermarkets and direct from the producers.
Excellent climate for orchards and food production ensures a huge variety of locally grown fruits and vegetables.
While we love our meat and game, restaurants and cafes are used to meeting the demands of a diverse population, so vegetarian and gluten-free options are also widely available.
New Zealand has 10 different wine regions, with each region providing a different flavour profile. Climate, soil variations, and grower and producer passion and commitment to outstanding quality have all contributed to create distinctive wines.
Our wines are renowned for their purity, intensity, and complex flavors. If you love wines, you'll love the opportunity to explore some of most intense and diverse wine experiences in the world.
We'll help you select which regions you may want to explore more than others. Is a wine tour of Central Otago's Pinot Noir vineyards your delight, or perhaps you'd prefer the crisp Sauvignon Blancs of the Marlborough region? Or both? Whether by bike, limo or classic car, we can set you off on an experience perfectly tailored to your desires.
Family owned, organically grown, or sustainably produced, we find the vineyard and winery owners you would love to meet and support. Hear their stories, enjoy the fruits of their labour, and have a fabulous day to boot!
Us Kiwis love our beer! We have a thriving craft brew culture, with dozens of boutique craft breweries throughout the country.
We take you to the family owned and run breweries that welcome you for tours and samplings. Share a pint at the bar with the locals from some of our finest and oldest country pubs, enjoy some great bar food, and realise that you're thinking about how to move to New Zealand for good! From icy summer radlers to hearty ales, the variety of beers is endless.
Of course we have beer festivals too! We find the Food, Wine, and Beer festivals that are celebrated when you're in the area. Leave it up to us to put you in the right place at the right time.